Will your product sprays mess up my windows?
The products we use normally will not leave any residue on your windows.  However, in rare occasions it may leave a few spots.
Are the products you use safe for my kids and pets?
We take pride in using products that are EPA-approved for use in households around children and pets.  We do recommend that pets and kids remain away from the treated area until it is completely dry.  This normally takes about an hour.
Does weather affect scheduling of your services?
Unfortunately, we cannot spray our products in heavy rain or high winds.  When this happens we tend to get backed up very quickly.  Please know we will work diligently to get to you as soon as possible.  Your patience and understanding is appreciated.
Are you licensed and insured?
5 Star Pest Control & Cabin Care Owner Jeremiah Puelston is licensed as a Structural Pest Control Applicator by the Minnesota Department of Agriculture – License #20087764.
He is also licensed as a Commercial Pesticide Applicator  – License # 20128430.
5 Star Pest Control & Cabin Care is fully insured.
Jeremiah is a state-licensed animal damage control operator.  You can find his DNR trapping permit on the Wildlife Control page.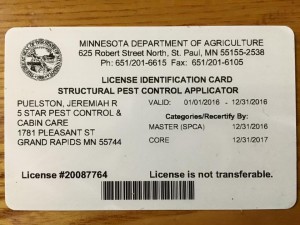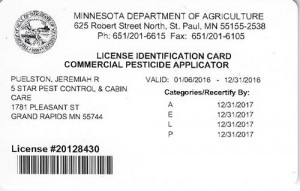 What are your payment options?
We accept checks, cash, VISA, MasterCard, and Discover Card.
Credit card payments may be made on our website or in person.
Early Bird Discounts are applied to Annual/Seasonal Service Plans that are prepaid by May 1st of each year.
Checks can be made payable to: 5 Star Pest Control & Cabin Care